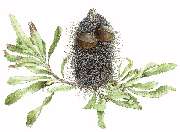 Banksia aemula

See a range of
Australian botanical
greeting cards
These are hand-drawn cards
featuring native plants
of North Head.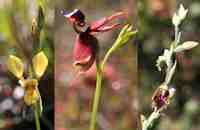 Orchids on North Head
Welcome to the
North Head Sanctuary Foundation website
After six years of submission writing, meetings and workshops, the Sanctuary opened for visitors in 2007. We opened our first interpretive centre at the beginning of 2009 and moved this to its current location in 2011.
This interpretive centre featuring information about North Head's heritage, plants, animals and research related to the Eastern Suburbs Banksia Scrub threatened community is open from 10am to 4pm on Saturdays and Sundays.. Come in and visit us in Building 20 - Education Centre. See map.
Early in 2009 we established a Native Plant Nursery within the former School of Artillery site and have been planting out seedlings into degraded areas. It's fun! Would you like to become involved?
Visit our pages and learn more about events both past and present.

Then click on "membership" and join us in our worthwhile endeavours.

Read our latest
Newsletter


See our
Walks brochures

Learn about
Research on North Head
concerning management of bushland in relation to thinning, fire, rats and rabbits